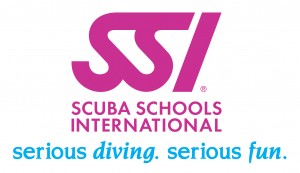 Open Water Diver $495
Becoming an SSI Open Water Diver is the best way to start your scuba adventure!
We make sure you are truly comfortable with the skills and equipment you will use. Getting started is easy! Sign up for an Open Water course or get your feet wet with the SSI Scuba Diver program.
Give Advanced Training a Test Drive $365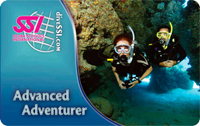 SSI's Advanced Adventurer program was created so you can try out a variety of specialty courses before you commit to completing a full course. It's a great way to experience what advanced training is all about and how valuable it can be to your diving adventures. You will have the chance to try 5 different specialties. You will complete one training dive per specialty and if you decide to take a full course in any of the specialties you tried, the dive you took can be applied to your advanced certification.
SSI Specialty Course: Diver Stress and Rescue $325
"Be prepared for those unexpected emergencies."
Stress is a major contributor to rescue situations and diving accidents. Through this course you will learn accident prevention, as well as how to handle problem situations if they occur.

Master Diver $POA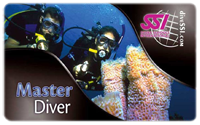 SSI's Master Diver rating is one of the most elite ratings in diving today. Divers that have completed this level have combined the knowledge, skills and experience to truly call themselves Master Divers.
To earn the certification for Master Diver, you must complete 4 specialty courses, Diver Stress & Rescue and have done a total of 50 dives.
Experience Rewards
Reward Yourself! You Deserve It!
SSI Levels of Experience — A Symbol of Success!
Be sure to reward yourself as you reach new milestones in your diving adventures. Utilizing SSI's Levels of Recognition is a great way to do this. It's an opportunity to commemorate your hard-won accomplishments and show the world you are one of diving's elite. Whether certified through Scuba Schools International or another agency, you are eligible for SSI's recognition program.
Chart your progress. Achieve your goals. Get the credit you deserve.
In order to achieve higher levels, just set goals and track the results. Every time you reach a new level – 12, 24, 50, 200, 300, dives – reward yourself by visiting your Dive Centre or Resort. They will upgrade your certification card and your logbook with a sticker and an official seal. Just like that your experience gets officially tracked and recorded for future education.





Every time you reach a new milestone – 100, 500, 1,000 or 5,000 dives – reward yourself with an upgraded recognition card.
These cards symbolize excellence, commitment and loyalty in diving. The more dives you complete the higher levels of recognition you will earn.
No additional training beyond Open Water Diver is required. All you have to do is get out there and dive!
Reward yourself today!
SSI courses are run by Indi Dive in conjunction with Perth Diving Academy, Balcatta.