Discover Scuba Diving
While not an actual scuba certification, during the Discover Scuba Diving experience you'll learn how to use scuba equipment in shallow water and get a quick and easy introduction to what it takes to explore the underwater world.
Credit for completing the Discover Scuba Diving Experience can be given when commencing the full PADI Open Water Course. It will also entitle you to scuba dive to a maximum depth of 12 metres for 12 calendar months anywhere in the world (when accompanied by a PADI scuba diving professional). We will issue you a completion certificate to take away with you at the end of the dive experience program.
What You Learn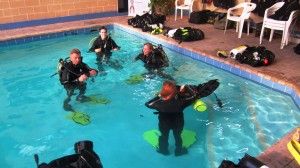 The PADI Discover Scuba Diving Program consists of three main phases:
Knowledge Development to understand basic principles of scuba diving Instructor scuba diving skills demonstration and participant evaluation Exploing the underwater world and having fun with scuba equipment.
To enroll in the PADI Discover Scuba Diving Program you must
Be 12 years or older
Be medically fit
The Fun Part
The fun part about this course is . . . well, just about all of it because learning to scuba dive is incredible. You breathe underwater for the first time (something youll never forget) and learn what you need to know to become a Man (or Woman) fish as you discover the underwater world that scuba diving opens up for you.
The Scuba Gear You Use
In the PADI Discover Scuba Diving Program, you learn to use basic scuba gear and standard accessories. The equipment you wear varies somewhat, depending upon whether youre diving in tropical, temperate or cold water.
  
The Learning Materials You Need
All of the necessary materials will be supplied by Indi Dive just bring your bathers.
The Indi Dive PADI Discover Scuba Diving Program Meet up in the morning, introduction to and fitting of the scuba equipment we will be using during the course, review of theory, course paperwork. Then it's into the water in the footsteps of Cousteau.
Learn to dive in Perth with Indi Dive        Add Depth To Your Life!!!!